Affiliated Corporate Culture
Affiliated Corporate Culture
PC&I Way 1.0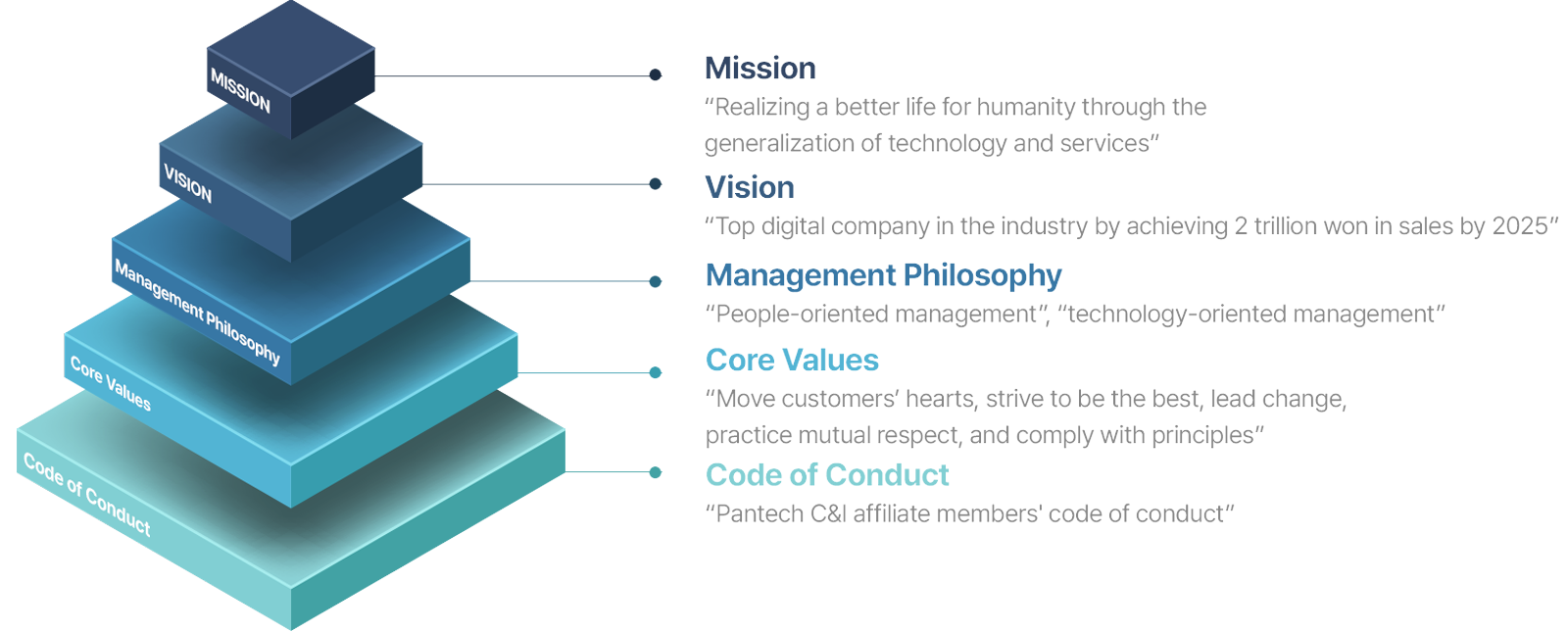 Mission

"Realizing a better life for humanity through the generalization of technology and services"

All the goods produced through technology and services contribute to the country, society,

and its members, creating a richer and more convenient life.

Vision

"Top digital company in the industry by achieving 2 trillion won in sales by 2025"

We aim to be a strong company based on sustainable growth that can achieve 2 trillion

won in sales by 2025 and create maximum corporate value by becoming a world-class

digital enterprise through successful digital transformation.
Management Philosophy

"People-oriented management", "technology-oriented management"

In the end, enterprises exist to serve people. We pursue "people-oriented management"
that practices humanism, respects employees, and aims for customer satisfaction.
Also, in order to successfully achieve our mission, we create technology for people, not
simply for the advancement of technology.
Core Values
Code of Conduct
When all members consistently share and practice healthy lifestyles, work styles,
and behaviors in order to become a respected person in society in line with the
changing environment, and to enhance the sustainability of the company, our
affiliates can move forward unhindered as strong enterprises.

"Pantech C&I affiliates are aimed toward this culture."

The members of the Pantech C&I affiliates live like this.

A company should enable its members to concentrate on work comfortably,
maintain mutual courtesy among members, and strive to understand each other.

"Respect," "humility," "courtesy," "good attitude." This is the corporate life that our affiliates aim for.

Work like a pro and answer with results.
We look beyond the status quo and challenge toward the future.
We work as a team rather than as individuals.
We have productive meetings to solve problems.

The members of the Pantech C&I affiliates act like this.

We act transparently and fairly for the benefit of all shareholders, investors, and members.
We participate in the realization of the company's social value.
※ Revision History
1. First enactment: July 14, 2021
2. First update: December 30, 2021