Corporate Philosophy
Valex Service's management philosophy is "respect for people," "respect for customers," and "respect for society"
based on the important value of becoming a "respected company" so that we may contribute to increasing the value of
individuals, customers, and society through our differentiated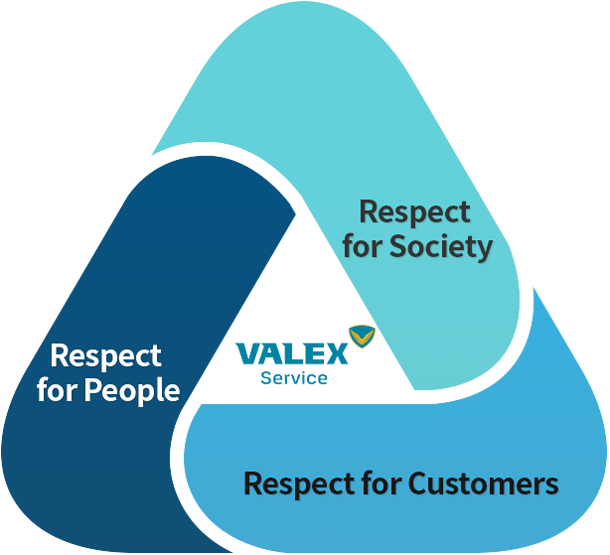 Model Employee
We aim to be talented people who give conviction and confidence to customers by creating the best value through extraordinary
competitiveness and creative innovation rooted in our foundation and principles.
A creative person
who pursues new values

A challenger
who pursues the best

A challenger who upholds the basics and principles

A faithful person who fulfills responsibility and provides confidence
Valex Service strives to realize corporate value by implementing the best high-quality
services and nurturing human resources.
Code of Conduct

We will always listen to the voices of our customers and provide prompt responses to your requests.
We challenge ourselves to create outstanding results with passion and hard work.
We comply with the basics and principles and contribute to the development of the company through respect and cooperation among members.

Service Charter

We will be your true partner by putting customer satisfaction first.
We will always listen to customer feedbacks and respond promptly to customer requests.
We will strive for the prosperity of our customers in all business activities.
We will always do our best to keep our promises with our customers.
We will always remember that Valex Service exists because of our customers.

Ethics Charter

The company must continuously satisfy customers, gain trust from customers, and ultimately develop together with customers.
The company shall create an environment where members can work voluntarily and with motivation, and members shall contribute to the development of the enterprise while working in the enterprise.
The company must enhance transparency and conduct efficient management.
The company must contribute to economic development, contribute to society through social and cultural activities, and do its best to conduct management in accordance with the social norms and ethical standards.
Safety & Health Policy
In order to achieve the "people-oriented" management philosophy, Valex Service Co, Ltd. pursues the safety and health of its members as the top priority, and declares the following safety and health policy to promote this priority systematically and continuously.
1.

Comply with safety and health laws and regulations.

2.

In order to prevent safety and health accidents, set detailed goals, periodically check implementation status, and conduct systematic education and training.

3.

Give transparency to safety and health management activities by strengthening communication systems for gathering opinions and exchanging information among members and stakeholders.

4.

Create a comfortable working environment by establishing a safety culture that allow each member to fulfill their responsibilities and duties between organizational hierarchies or stakeholders.

5.

Actively participate in safety and health activities of local communities and customers/partner companies in recognition of corporate social responsibility.
All members must be familiar with this policy and actively participate in safety and health activities
by developing various prevention and improvement activities to implement the policy.
CEO
Valex Service operates the VALEX Academy (formerly TOS Academy)
for human resources education.
We strive to enhance the competitiveness and value of individuals and customers
by providing optimal training services by analyzing the individual competencies required
by our clients to strengthen individual competencies.